Cesspit And Septic Tank Services
Your septic tank or your cesspit needs to be regularly cleaned, and this depends on the size of the tank as well as the frequency of its use. There may be many reasons why you have a septic tank at home, especially if you are not connected to the municipal sewage Network. But this is why you need to properly keep your system clean and effective so that you can ensure you are compliant with all the health regulations and have your system work effectively.
Dillons Services Ltd offer septic tank cleaning and cesspool emptying throughout Wigan and the North West of England. Please call 08000725147 if you need us to empty a septic tank.
At Dillons Services Ltd we have licensed waste carriers, and we are experienced in the cleaning of all types of septic tanks and drains. We also have all the necessary equipment to handle all types of septic tanks and cesspools. In addition to this, we also have a fleet of vacuum tankers and modern waste disposal equipment with which we pump out both domestic and commercial septic tanks. We aim to have your tank work as long as possible, and always be safe, which is why we offer you with regular repairs and maintenance to all your septic tanks.
But it's not always a small system at home that needs cleaning, you may need drain cleaning services for larger industrial areas too. The team at Dillons Services Ltd can handle any project, large or small. It's essential for everyone to make sure that they enjoy a clean working and living environment, which is why Dillons Services Ltd is a leading provider of septic tank emptying and drain cleaning services.

Cleaning septic tanks
High pressure jetting to remove drain blockages

Sewage treatment plants

Septic tank services

CCTV drain surveys
Portable toilets

Emptying of cesspools

Clearing grease traps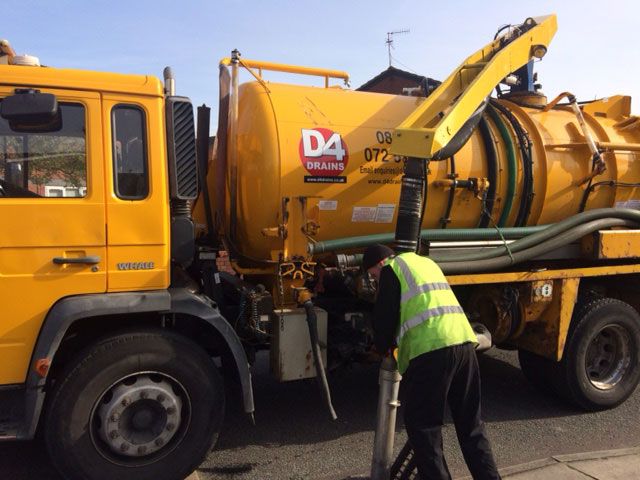 Do Septic Tanks Need Emptying?
It's very important to regularly have to use septic tanks as you want to remain within the required legislation and also have a healthy working or living environment. It is important to work with a professional cleaning team that has the right tools and facilities available to assist you.
We have a fleet of septic tank vacuum cleaners as well as state-of-the-art equipment to clean any drainage system you need. We can also advise you on that best available options you have in terms of cleaning of septic tanks, and how often this should be done. We have to provide a cost effective service to polylines, and we can assist us regularly as you need help.
We will also provide you with an estimate on the cleaning of your drains and septic tanks, to ensure that we offer the best service at the best price and that we help you keep your entire system clean and healthy. It's a great way to ensure that you are compliant with the regulations as well.
How Often Should I Empty a Septic Tank?
When it comes to cleaning your brain system, it's very important to do this on a regular basis to ensure that you work in a healthy environment. A blocked drain can cause numerous issues, including an unhealthy environment, as well as additional costs to unblock your entire system.
It's important to work with an experienced team when it comes to septic tank emptying and the general maintenance of your drain system. You'll benefit from professional quality workmanship and know that your drain or septic tank is totally cleaned on a regular basis. It's a cost effective way of ensuring that your systems are always clean and well-maintained, without any blockages and health risks that might cause more discomfort and additional costs in future.
Depending on the area you stay in, there are different laws that govern your area, and you should be aware of these so that you have a compliant drain system at all times. It's important to be compliant, as you also want a healthy working and living environment for you and your whole family.
Septic Tank Emptying Cost
The cost of a septic tank cleaning will vary depending on the size and the type of cleaning you need. It is always available to assist you with a pricing quotation as well as a thorough survey of your entire system to suggest the best available service to you. We have to provide a cost effective service to a client, and we can assist you with regular maintenance of your septic tank.
Dillons Services Ltd provides septic tank cleaning and maintenance services in areas such as Preston, Bolton, Manchester, Wigan and Southport. We service the whole North West of England and we are always offering our clients the best possible service at an affordable price. We are your first choice when you have a septic tank emergency.

We'll gladly discuss the cost of a septic tank cleaning directly with you, making it ideal for anyone to use our services throughout the UK. You'll be guaranteed of a cost effective service and the best attention to detail at all times. This means that you'll have an expert on call at all times.
Cost to Empty a Septic Tank in the UK
It doesn't have to be expensive to clean your drain system in the UK, depending on your area as well as the size of your system. We have different services to offer, making it ideal for anyone looking for the right drain cleaning system. Contact our friendly team today if you want to find out more about the different options you have when it comes to cleaning and emptying your septic tank. Cesspool drainage is essential to do, sometimes a few times per year, depending on your system.
There are different laws that govern the specific area you live in, and you need to adhere to them in order to be compliant and ensure that you live in a healthy environment. These regulations have been put in place to ensure a good standard of living for all Donetsk and septic tank systems.
We handle drain cleaning services for a variety of domestic and commercial customers, and our service includes the maintenance and unblocking of septic tanks, as well as drain cleaning for commercial and industrial customers. We can also clean drains, cesspit as well as storm channels.
We can help with a septic tank emergency
If you ever find yourself in an emergency situation, we can help with anything your septic tank immediately. We have services available on an emergency basis, and we can assist our customers 24 hours a day. This means you can always have for cost-effective and very reliable service when it comes to servicing or the emptying of your septic tank.
We know that emergencies might arise, and that's why our team is always available for helpful guidance and advice. We can also assist you with the cleaning of cesspools as well as sewage treatment plants throughout the UK. We can also do a CCTV drain survey that will provide you with a detailed report on the reason for your drain problem.

Wigan

Bolton

Warrington


Liverpool



Preston

Manchester

Northwich


Southport



This means we are your one-stop shop for all the necessary cleaning and unblocking of your drain. If you're faced with a blocked drain, it can have a negative effect on your day to day life, not to mention a health hazard. That's why you need help from professionals who are qualified and experienced to deal with cleaning and unblocking drains and septic tank systems.
If you're staying in the North West of England, you can contact Dillons Services Ltd for quality drain services. We're able to carry out CCTV drain surveys that help us find out the basic reason for any problem.
Dillons Services Ltd offer septic tank cleaning and cesspool emptying throughout Wigan and the North West of England. Please call 08000725147 for more information.